We Are Here For You Every Step of the Way
Our K-12 experts will assist you and your team through each step of the process.
Implementation and Project Management to Ensure Success
Our professional implementation team understands the needs of education.  As a matter of fact, they have been in your shoes as former K-12 technology professionals.
This experience enables them to bring a unique perspective to implementation of the One to One Plus software.  Their knowledge and commitment to our clients prepares your team and ensures that you get the maximum benefit from the software.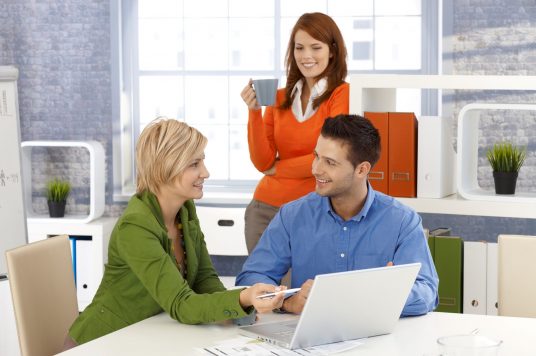 Your time is valuable. Our team will make sure you have everything you need to successfully manage your school's devices and help desk requests.
It's More Than a Slogan. It's How We Do Business
For our team, Extra Mile Service serves as more than a slogan.  It's how we conduct our business.  It's our company culture.  It's our relentless pursuit of client satisfaction.  It's our commitment to always go the extra mile to ensure our clients get the level of support they deserve.
The Team and Tools to Help Your Staff Thrive
Access on-site and web-based training so you're taking advantage of all the software has to offer. Attend one of our free webinars to get a quick refresher on how to use specific aspects of the software.
Our team of education professionals are ready to consult with you on a range of topics related to managing your school's technology and help desk. Take advantage of their expertise.
We believe in sharing helpful tools and best practices with our clients.  We regularly host webinars, publish articles and share tips about what's working in schools across the country.
Our implementation team assist clients in connecting their existing systems including SIS, MDM's, and other critical data integration points which eliminates the need for manual data entry.
Our Dedicated Implementation Team Ensures Your Success
Kerry Morgan
Director of Technology
"The support team is always there to help you use the system the way you want to.  Your success with the system is their highest priority."
Tina Leitzy
Director of Technology
"The tech support is great-always open to improvements and changes."
Donnie Elder
Director of Technology
"Your support team has always been there for us and you can't ask for more than that."
Donnie Elder
Director of Technology
"One to One Plus is a great company to work with."
Kathy Fetch
Technology Secretary
"The staff is amazing.  I feel like they are a part of my team."
Mike McKay
Director of Technology
"The customer service through rollout and onboarding has been phenomenal.  We call and immediately get to talk to a person."
Dr. Jimmy Pryor
Assistant Superintendent of Technology
"Your support team understands education and are always available to help in any way they can."
Jim Reiflin
Director of Technolgy
"The company is very responsive.  If you have a 1:1 device program, you should definitely consider One to One Plus."
Troy Moore
Director of Technology
"The support team is simply awesome.  They really know their stuff."
Kyle Jones
Chief Technology Officer
"Working with the One to One Plus support team has been refreshing.  They are always available to help us in any way they can."
Josh Moneypenny
Director of Technology
"This is one of the best companies I have ever dealt with in Education.  They are quick to respond."
Josh Shepard
Director of Technology
"The support we receive is phenomenal.  We could not imagine going with another system."
Get an Integrated System to Manage Your Devices and Help Desk
It's as easy as …..
See a Custom Demo
See how our software can help you and your team be more efficient.
Leave the Heavy Lifting to Us
Our team is here to help you through every step of the implementation process.
Enjoy an Integrated Solution
Be more productive and organized with an integrated technology management system.